Even general visitors get a huge welcome! Shop and breakfast at 'Adachi fish market' in Senju, Tokyo.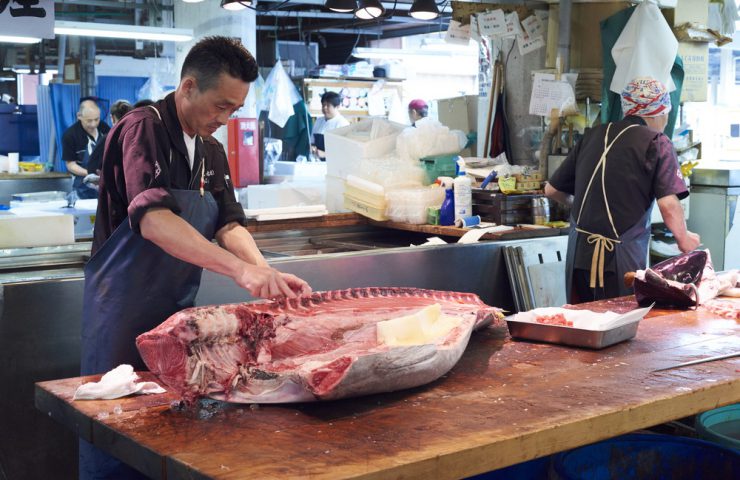 Senju Hashido-cho, Adachi, Tokyo POSTED on 2019.08.20
Senju Hashido-cho, Adachi, Tokyo POSTED on 2019.08.20
When it comes to the market in Tokyo, I assume many people would imagine Toyosu fish market which was relocated from Tsukiji in October 2018. Well, Do you know how many central wholesale markets run by Tokyo government exist in Tokyo including one of the largest Toyosu wholesale market?
The answer is eleven. 'Wait, are there that many?' I ask you. Each market carries fish, meat, fruits, vegetables and flowers respectively, and there are markets that are greengrocers or butchers .
Among them, Adachi fish market operates as the only seafood market in Tokyo. Located 3 mins walk from Senju Ohashi station on Keisei line, guests can visit wholesale market, purchase seafood and use restaurants. Moreover, you can do some shopping at wholesale market on 'Adachi fish market day' that is taken place twice a month and available to general public.
Fish market in Senju, which has been weaving its history since Edo era
Origin of Adachi market is Senju green market which carried predominantly greengrocery. Started operation in Tensho era (1573-1592), Adachi fish market flourished as Edo government's convenient market. Actually this area is known as the departing point of Basho Matsuo's Oku-no-hosomichi. His statue stands near the market.
Although the market was forced to close down its business after the Meiji restoration, fish market relocated from Nihonbashi to Shibaura due to Kanto Earthquake, that resulted seafood, which couldn't be transported to Shibaura, to be congregated in Minamisenju. That led Shioiri fish market to be borne.
Later on Shioiri fish market relocated to Nishi Arai. The fish market integrated into greengrocery market in Senju Kawara-machi in 1945, resumed its business here as Tokyo government operated central wholesale market Adachi branch. 62 days later, the whole building burnt down because of WW2 war fire, however, construction of the new facility started in 1968. Greengrocery department was detached for the lack of workers due to increase of deals and ended up in seafood specialized market as is now.
Currently, there are about 50 wholesalers in Adachi fish market. It is 1/10 the size of Toyosu market, which enables first timers to easily see around and observe workers and shoppers closely.
About 8% of the carried items is tuna-related, about 30% are horse mackerel, bonito and mackerel. The rests are frozen or processed food. You won't be able to keep your eyes off from sequel dismantling of huge tunas.
Adachi fish market from a viewpoint of tuna wholesaler who has more than 30 years of experience.
Otani Shoten, Tuna wholesaler in Adachi fish market, has a long history since around 1945's.
Current owner is Tomohiko Joshita, third-generation owner. Started as a part-timer during high school, he has been working here for more than 3 decades.
'Opening time differs each shops. Earliest shop can be 12am or 1 am. We usually open at 3am. Tuna auction starts at 5:30am' Jyoshita said.
Tuna auction isn't open to public anymore, but free to view in wholesale area. Some wholeselers actually do sell Tuna to visitors. Otani Shoten offers several services so that visitors enjoy the market, and the shop also gets many inquiries from foreign travellers.
When we purchased tuna block there, Joshita sliced it into bite-size pieces on the spot as a special offering. The fresh tuna melting in mouth made me smack my lips.
'Adachi fish market day', a public open day that is taken place on Saturdays in odd months, where each shops sell fresh seafood for at an affordable price. There are various events and tuna dismantling shows at the event, attracting thousands of visitors each time.
Tremendous amounts of visitors come to each events. I think more than 10 thousands come at the most. Especially tuna shops have a long queue. We also prepare tuna chunks and rare parts of tuna such as throat or brain for this occasion in order to make visitors satisfied.
Local fish shops and sushi restaurants are becoming less and less, so is the number of shoppers as well.
However, I feel happy that lots of people started to come visit here on 'Adachi fish market day'and not only Japanese but also foreign travellers get interested in the market.
Adachi fish market is one and only fresh seafood market in Tokyo which is open to both locals and travellers. I would like people to visit without hesitation.' Joshita continued. 'Experiencing how market usually works is one thing, enjoying value shopping in Adachi fish market day is other thing. This market is compactly filled with Japanese food culture and it's worth seeing.
Store name: Adachi Fish Market, Tokyo Metropolitan Central Wholesale Market
Address: 50 Senju Hashido-cho, Adachi, Tokyo 120-0038
Business hours: Mon-Sat 5:00am-3:00pm for visitors. December, busy period, and fish auction are closed to public.
Holiday: see website
Website: http://adachi-shijyo.or.jp(Japanese only)
Breakfast at the retrospective diner where market workers also drop by
Although there are 5 diners in the market where you can have seafood rice bowls or set menu meals, this time we intentionally visited an outer market restaurant. It's called 'café diner Midori 'which locates right outside of the market. From a store sign to the entrance, it has full of retrospective atomosphere.
This diner said to be loved by market workers and locals for long time. Autograph of celebrities are hung everywhere in the shop.
We ordered buttered toast in the morning menu to begin with. Plenty of butter was soaked into a fluffy bread and really tasty. It came with a boiled egg and some sausages.
Their specially tuna chunks set meal comes with fried tuna and is good value. When you order a set meal, you can add on small tuna chunks for \250 (tax-included) which is a great system.
There are many other set menu such as humburg or fried oyster. Sofa seats made us enjoy the meals comfortably. For breakfast after the market visit or a short break, I would recommend this shop to stop by.
Store name:café diner Midori
Address:2F 61 Senju Hashido-cho, Adachi, Tokyo 120-0038
Business hours:Mon-Sat 5:00am to 2:00pm(Morning meals finish at 11:00am), Public holidays or market closed days 11:00am to 2:00pm
Holiday:Sunday
Tour name:Senju & Shibamata Walking Tour
Price:Tour duration can be extended at a rate of 3,000 yen per group, per hour, payable in cash.
Website:https://omakase-tour.com/tours/destinations/tokyo/leave-the-tourists-at-tsukiji-and-see-a-real-local-fish-market-up-close-and-personal.html
Writer

Atsuko Mitsuhashi
Photographer

Mari Harada